Our driver and guide met us at 7:30 a.m. to load up the car and begin our month long tour of rural Mongolia, including the Gobi Desert, the grassy steppes, and the mountains leading into Siberia – a vast array of terrains in one country. They're both young (in their 20s), friendly, and arrived much excited for the trip. Our guide, Sena, speaks English quite well. She studied it in school and spent three months in Atlantic City, New Jersey as part of a work exchange program. Our driver, Ishva, speaks a solid amount of English, and is amazingly skilled at communicating anything he doesn't know through charades. We notice Sena and Ishva seem to be pretty good friends and asked if they worked together before. Sena told us that in Mongolia they would call each other "golden partners." I guess, in English, we would call them a "dynamic duo." They spend close to four consecutive months a year together, during the summer season, driving and guiding people through their country which I'm sure either causes you to loathe a person or form a fantastic bond. We're happy it's the latter!
Time passed quickly as we drove through mountainous landscape listening to traditional Mongolian music (throat singing, ballads about love, and instrumentals featuring the horse head fiddle) which kept perfect tempo with the scenery rolling past us. Mixed in were the occasional Beyoncé or Aerosmith track for some car karaoke pick-me-ups, and before we knew it, the land flattened out, the grassy hills and mountains turned to desert scrub and Sena told us that we were now in the Gobi Desert. While it didn't look like much of a desert, she explained that the sand dunes people are most familiar with from photos are only a small part of the desert and the larger portion, especially the northern region, is covered in scrub. We stopped in a small town to buy bottles of water (we had been too distracted by snacks at the main grocery store to remember this important item) and continued into the desert – only this time on a bumpy, windy dirt road. We had no idea how long our drive for the day would be because according to Mongolian superstition, giving someone an estimate of time for a journey will lead to trouble along the way or an extra long journey. After learning this, I resolved not to ask "are we there yet?" and reprogrammed myself to focus on the immediate, rather than time and distance, which was not hard to do during this now, roller coaster of a ride through the desert. Soon, we lost track of time enjoying Sena's many stories while Ishva navigated the winding roads beneath us like a seasoned rally driving instructor. Sena shared endless knowledge of her country and had answers to absolutely every random question we threw at her.
Dotting the open desert, and often the road, were herds of hundreds of horses, goats, and sheep. None of the herds were confined by fences, yet all seemed to be within viewing range of a ger (the Mongolian word for yurt). Sena said that Mongolian herders keep five types of livestock: horses, goats, sheep, pigs and camels. The herders don't believe it is healthy to fence in the animals, rather believing the animals should choose which grasses to eat and that this genuine, free-range animal produces the tastiest meat. We thought this fenceless free-range movement of the herds would dictate where the nomadic families move and when they move, but Sena explained that this is only a small part of it. The nomadic families move based on the wind and season, and ultimately, their next location will be near a water source to provide for both humans and livestock. Usually, the goats and sheep move as one large herd and are herded back near the ger at night to sleep. They're protected from wolves and other predators by the family dog and only meander away to graze, in the morning, once the dew has evaporated from the grass. Today, the nomadic families move their herds and gers about twice a year. The locations they move back and forth to are usually the same every year.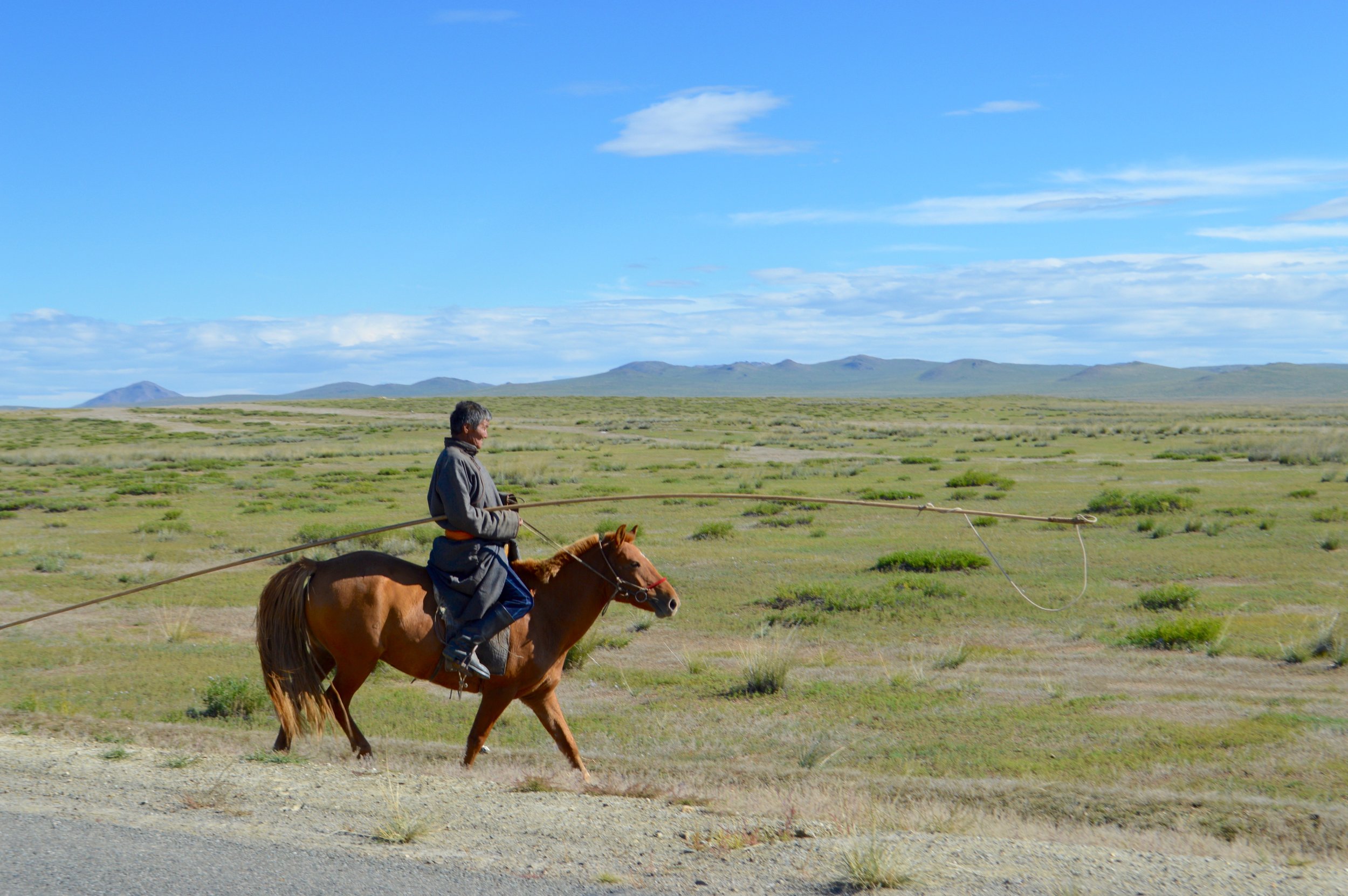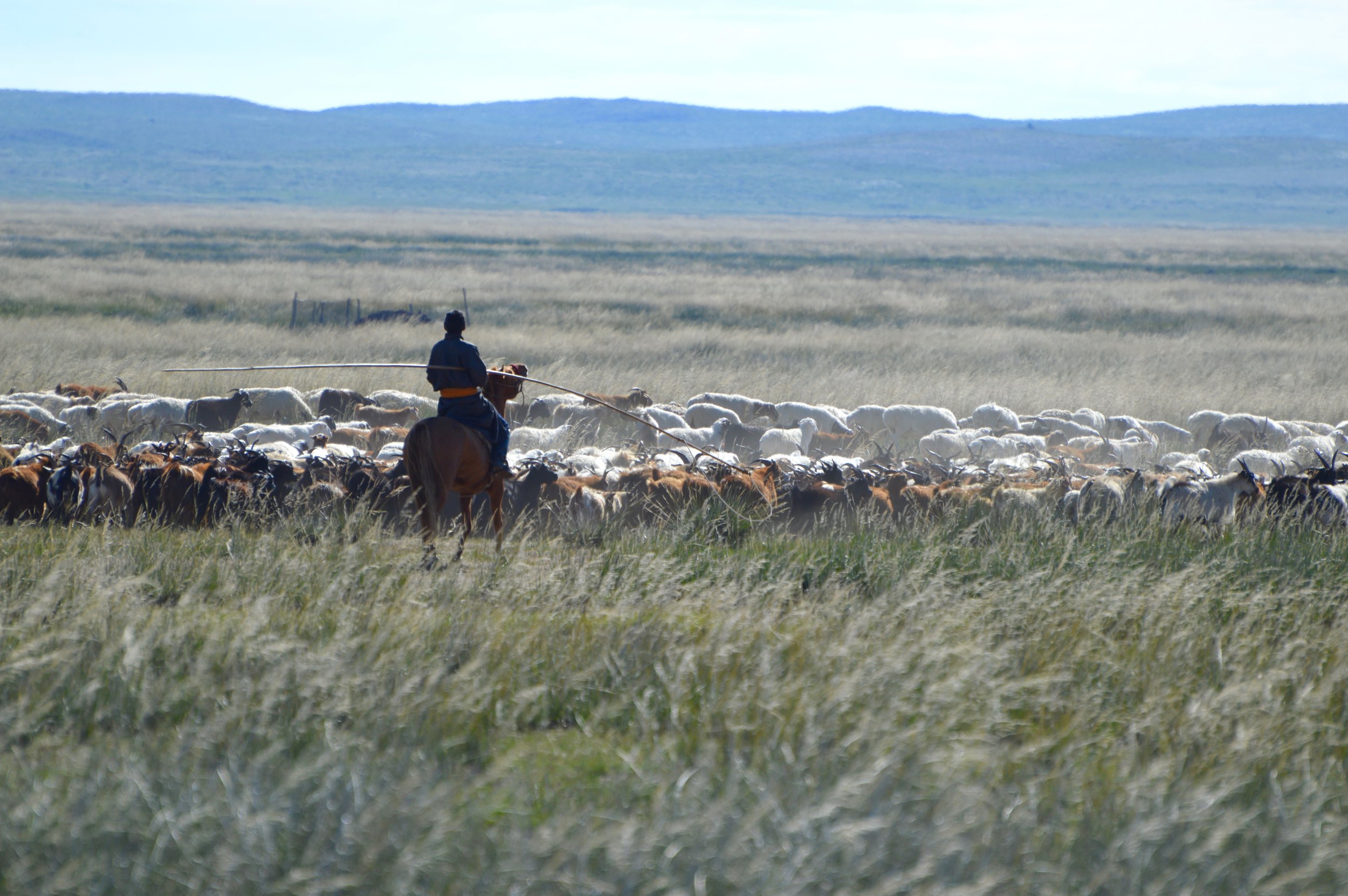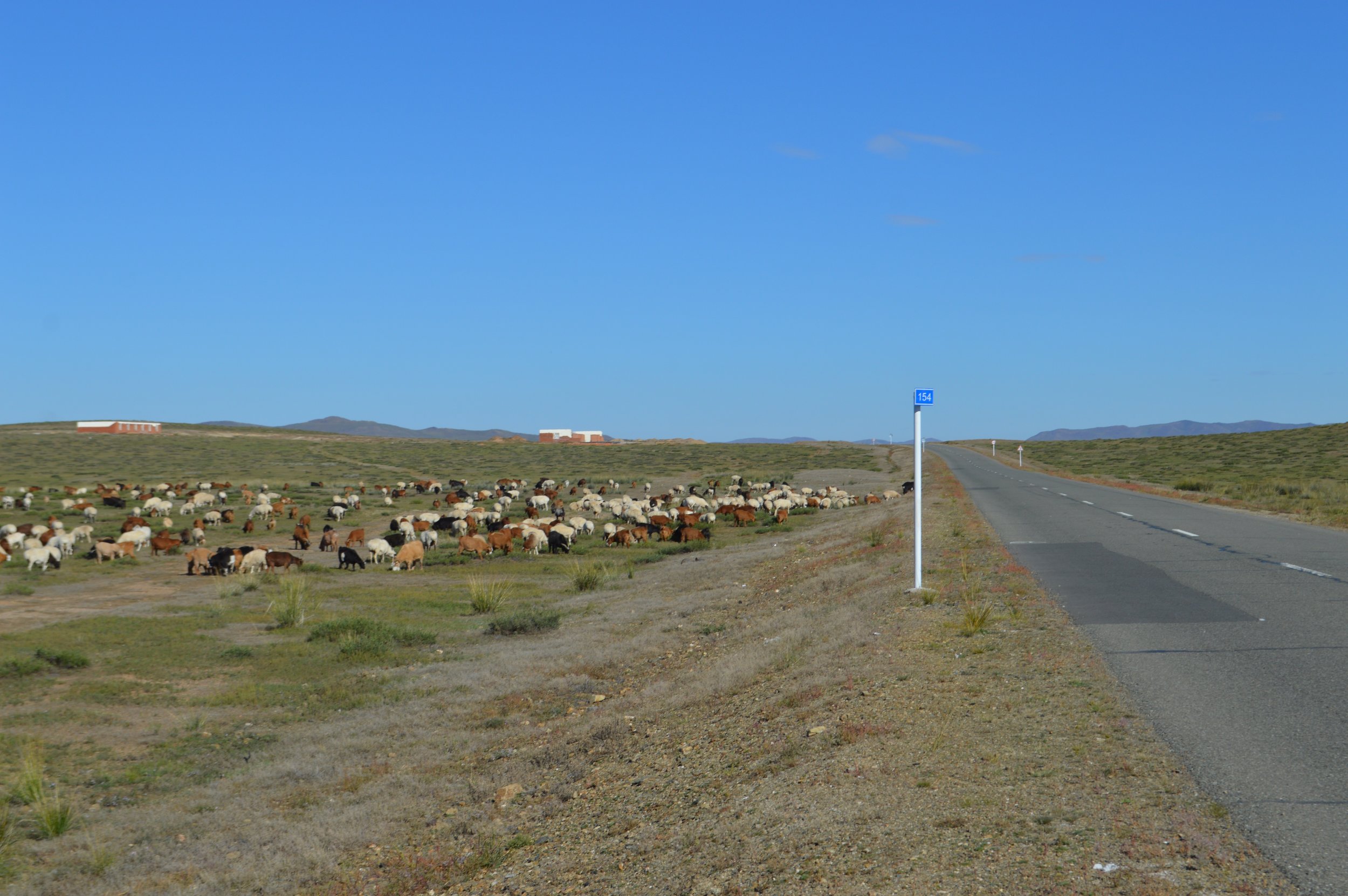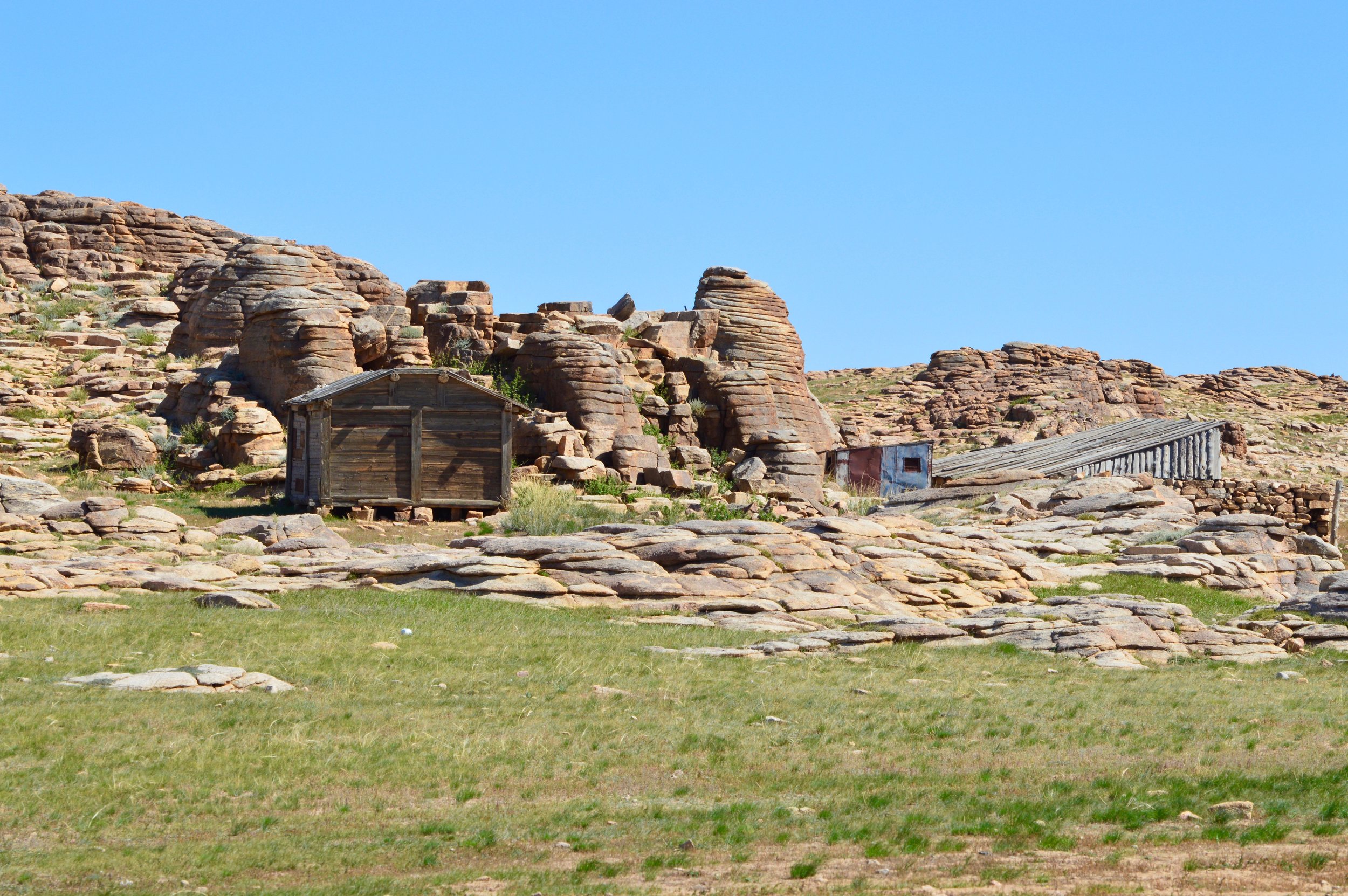 Around noon, we began to see rock formations in the distance and assumed we were getting close to our destination for the day, which was the Baga Gazariin Chuluu mountain range and rock formations. Our first stop within the Baga Gazariin Chuluu mountain range was at Tsorjiin Khureenii, a nearly destroyed monastery. As recent as the 1920s, almost one-third of the male population in Mongolia were Buddhist monks and at the turn of the 20th century there were about 750 functioning Buddhist monasteries. Today, many lay destroyed or abandoned due to a period of communism inspired by Russia, Mongolia's great northern neighbor. Communism in Mongolia lasted until 1990, and while Mongolia's democracy has made outstanding progress over the last 26 years, repairing historical sites like these destroyed monasteries is a monumental task for a budding democracy.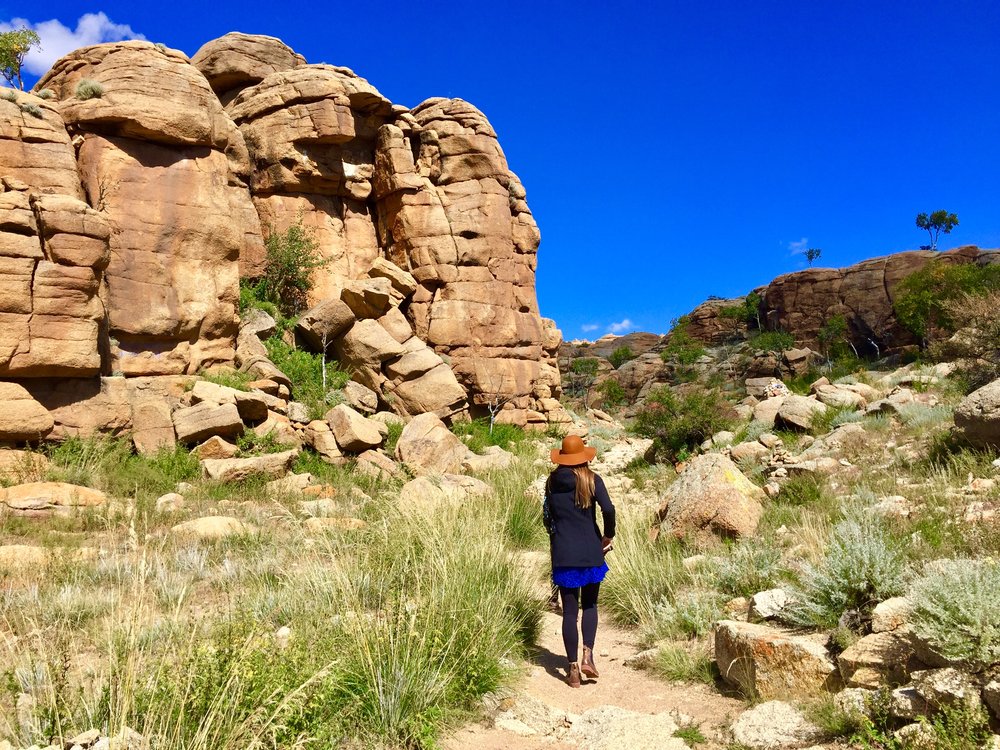 Tsorjiin Khureenii Khiid is hidden between huge granite hills. Between the hills, there are a few stone walls of the original monastery still intact and some remaining foundations create an exoskeleton that help one imagine the size and scale of the original rooms and buildings. We wandered through them, passing hundreds of blue prayer scarves tied to trees within the ruins, and climbed to the top of the hills that surround the monastery for the most spectacular views of the granite range around us. There were numerous stacks of stones on this hilltop, which we learned are called ovoo. Ovoo, stacks of rocks (or sometimes wood), are placed in spiritual places as offerings to the gods. (We later found them all over Mongolia on hilltops, in the valleys of beautiful mountains, on the grounds of monasteries, on the side of the road where traffic accidents are common, and various other locales.) It's good luck, or karma, to add stones, or to put money or food in these rock piles, so we went for the easy option and added a rock to each one we passed. The next two stops within the Baga Gazariin Chuluu mountain range were a small cave and a tiny spring. They are close to the monastery ruins, but difficult to find if you haven't visited them multiple times like our guide and driver. The cave is called Usan Bolortiin Agui. It has a short, wide opening which we ducked into, following our guide, and continued to crawl behind her for eight feet, down a rocky slope, into a small, cool space that just fit the three of us. She told us that hunters use caves like these in the desert to keep the meat from their successful hunts cool and fresh. The last tourist attraction in the range was a small spring we would never have found without Sena and Ishva. On top of a small hill, among the miles of hills, is a silver dollar sized hole, covered by a stone, and next to it is a small spoon with an extra long handle. Sena uncovered the hole, grabbed the spoon, and told us to lay down and pour it in our eyes because the water improves vision. After we watched Sena and Ishva demonstrate the pouring of this magical water into each other's eyes, we decided we wouldn't be immediately blinded by flesh eating bacteria in the water and tried it for ourselves. Surprisingly, the water temporarily improved our vision! (It's likely that it just washed the desert dust out of our eyes, but I'll ignore that and continue to hope it has magic powers.)